chaitra navratri will begin from 2nd April and will continue till 11th April. The Ashtami will be observed on April 9 and Navami is falling on April 10. Kalash is also established for the Goddesses on first day.
Devi Shailputri
Goddess shailputri is absolute form of Mother Nature. she is also known as goddess Parvati
ॐ देवी शैलपुत्र्यै नमः॥
या देवी सर्वभूतेषु माँ शैलपुत्री रूपेण संस्थिता।
नमस्तस्यै नमस्तस्यै नमस्तस्यै नमो नम:॥
Devi Brahmacharini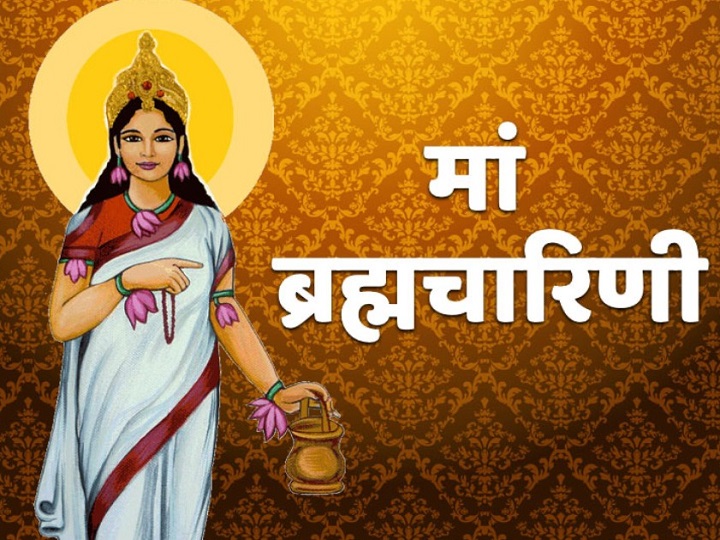 Devi Brahmacharini is a devoted female student who lives in ashrama with her Guru along with other students. This goddess is worshipped on the second day of navratri.
ॐ देवी ब्रह्मचारिणी नमः॥
या देवी सर्वभूतेषु माँ ब्रह्मचारिणी रूपेण संस्थिता।
नमस्तस्यै नमस्तस्यै नमस्तस्यै नमो नम:।।
Devi Chandraghanta
Devi chandraghnata is the married avatars of goddess parvati who sits on the back of a tigress and having 10 hands. She is ever ready for wars with all her weapons.
ॐ देवी चन्द्रघण्टायै नमः॥
या देवी सर्वभूतेषु माँ चन्द्रघण्टा रूपेण संस्थिता।
नमस्तस्यै नमस्तस्यै नमस्तस्यै नमो नमः॥
Devi Kushmanda
Devi kushmanda is the creater of the world ku means little ushma means warmth and Anda means cosmic egg.
ॐ देवी कूष्माण्डायै नमः॥
या देवी सर्वभूतेषु माँ कूष्माण्डा रूपेण संस्थिता।
नमस्तस्यै नमस्तस्यै नमस्तस्यै नमो नमः॥
Devi Skandmata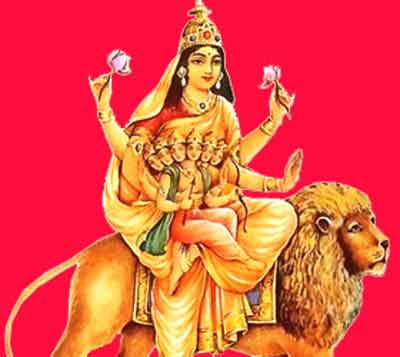 Skandmata is having four arms and a lion as her sawari holds a lotus in her two hands and her third hand holds son kartikeya . she will shower blessings on her followers with the fourth hand and a bell.
ॐ देवी स्कन्दमातायै नमः॥
या देवी सर्वभूतेषु माँ स्कन्दमाता रूपेण संस्थिता।
नमस्तस्यै नमस्तस्यै नमस्तस्यै नमो नमः॥
Devi Katyayani
This is the destroyer form of Maa parvati who killed mahisasur. It is one of the most violent form of durga
ॐ देवी कात्यायन्यै नमः॥
या देवी सर्वभूतेषु माँ कात्यायनी रूपेण संस्थिता।
नमस्तस्यै नमस्तस्यै नमस्तस्यै नमो नमः॥
Devi Kalratri
Devi kalratri is shown in her golden skin to kill shumbha and nishumbha and other demons. She blessed her devotees with Abhaya and Varada Mudras
ॐ देवी कालरात्र्यै नमः॥
या देवी सर्वभूतेषु माँ कालरात्रि रूपेण संस्थिता।
नमस्तस्यै नमस्तस्यै नमस्तस्यै नमो नमः॥
Devi Mahagauri
The young and most beautiful form of maa shailputri is known as mahaguari. She wears white clothes the worh maha means great and gauri means radiant or fair. She is compassionate and fulfills deepest desires of all her devotees.
ॐ देवी महागौर्यै नमः॥
या देवी सर्वभूतेषु माँ महागौरी रूपेण संस्थिता।
नमस्तस्यै नमस्तस्यै नमस्तस्यै नमो नमः॥
Devi Siddhidatri
Maa siddhidatri is Goddess of power, Adi Parashakti appeared in the form of siddhidatri from the left of lord shiva. She have all the siddhis in her hands and lord shiva got all the siddhis by the grace of Goddess siddhidatri.
ॐ देवी सिद्धिदात्र्यै नमः॥
या देवी सर्वभूतेषु माँ सिद्धिदात्री रूपेण संस्थिता।
नमस्तस्यै नमस्तस्यै नमस्तस्यै नमो नमः॥