Every bride wants to look perfect and radiant on her wedding day that all eyes attract her. The wedding is very emotional event in India. Wedding jewellery gives the Bride the perfect look with the outfit which recalls the common love and connects the wife and husband in a unique way. Brides emotions are attached with the jewellery she wears on their big day. Lets discuss some trends which are followed the latest by Indian brides for their wedding.
Indian wedding jewellery -ForeHead
Matha-Patti- Brides prefer Matha Patti made with Kundan and Polki forever for their big day. You can pick the jewellery heavy and light as per your choice and matching to your outfit. Matha patti is looking best on your head and gives you a perfect wedding look Traditional matha patti designs are back in trend even Bollywood actress prefer to wear matha patti for their wedding
Maang Tikka – If you don't like Matha Patti you can choose maang tikka as per your choice and size of your forehead. You can pick kundan, Pearl or Judau pieces of Maang tikka for your wedding which will give you a perfect look for your wedding. Big maang tikkas are in fashion right Now.
Indian wedding jewellery Neck Pieces
1. Choker- You can wear a choker on your wedding day for a perfect look. Heavy, Neck touching type of chokers are in trend now. You can go for kundan and polka ones which will give you a radiant and heavy look. Chokers are best to wear with bridal heavy lehngas.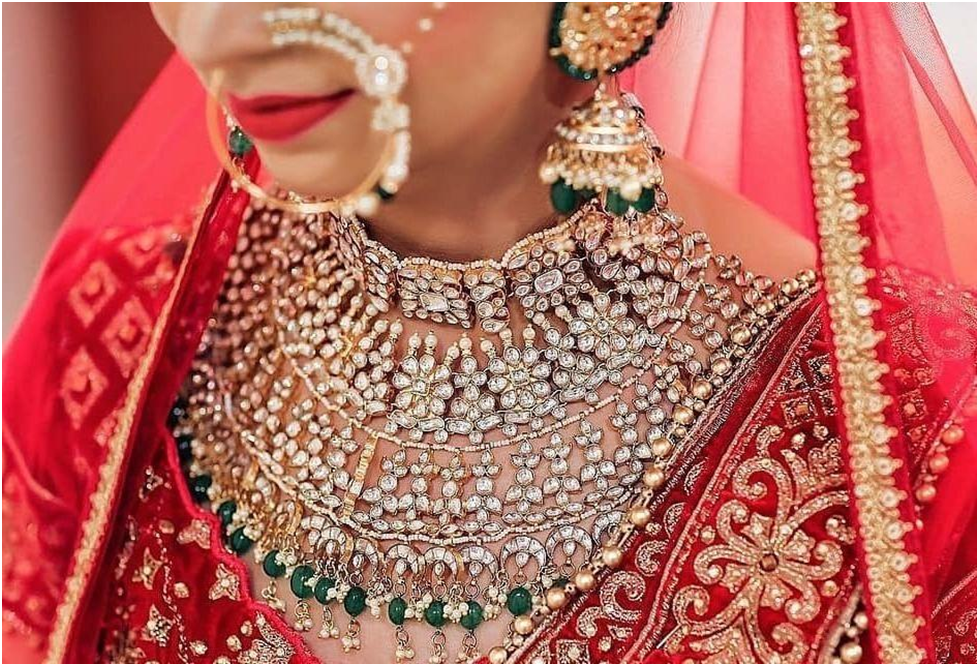 2. Necklaces-You can go for big Rani haar or necklaces which are in great trend .design of your haar or necklace should be matching with your outfit. Kundun, Polki or meenakari are the best for necklaces which gives you a perfect bride look.
Indian wedding Jewellery Ears
Chand balis
Chandbalis will best accompany your outfit of bride with all the heavy jewellery.long and heavy earrings should be preferred and in trend this wedding season.
Long shoulder touch earrings
Long shoulder touch earrings are in great trend this wedding season and best favorite for all the brides. It will add beauty and elegance to your outfit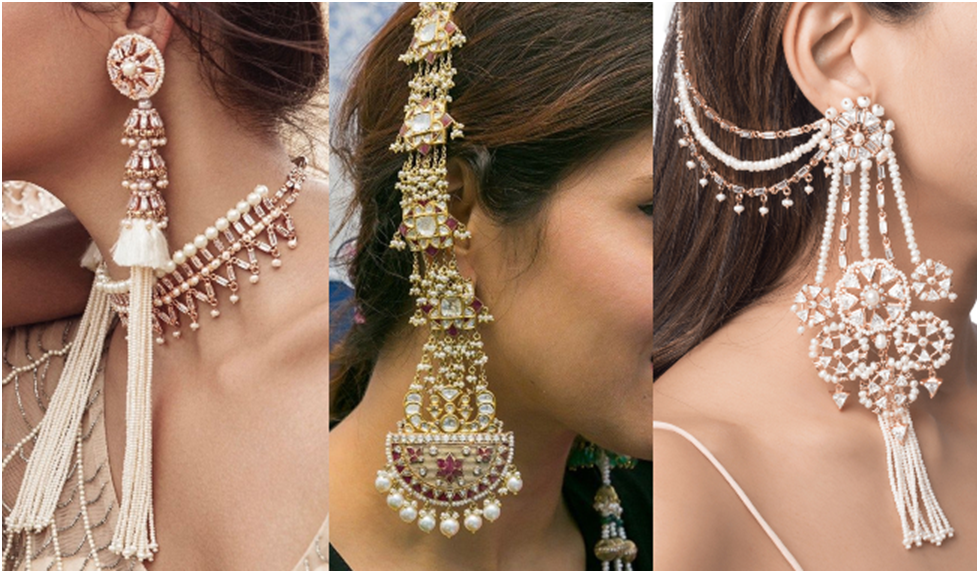 Indian Wedding Jewellery trend -Nose Ring
Big and heavy naths are the first choice for wedding for Indian Brides. However some modern brides prefer light weight and trendy naths for their wedding. A good nose ring will complete your entire look of bride.
Indian Bridal Jewellery Trend -Hands
Bangles – Heavy Bangles and choodas are the favourites for Indian Brides.You can Coustomized the chooda set or bangles as per your wedding outfit.
Hath Phools
You can wear traditional hath phools to complete your look of a bride which will be made of kundan, Polki and Pearl.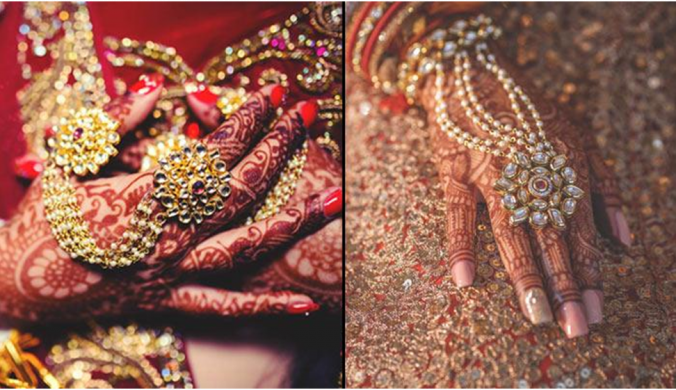 Big Bracelets and Rings
Big Bracelets and rings are in great trend today. You can have a great look cocktail ring with modern looks are in great trend now and favorites of Indian Bride.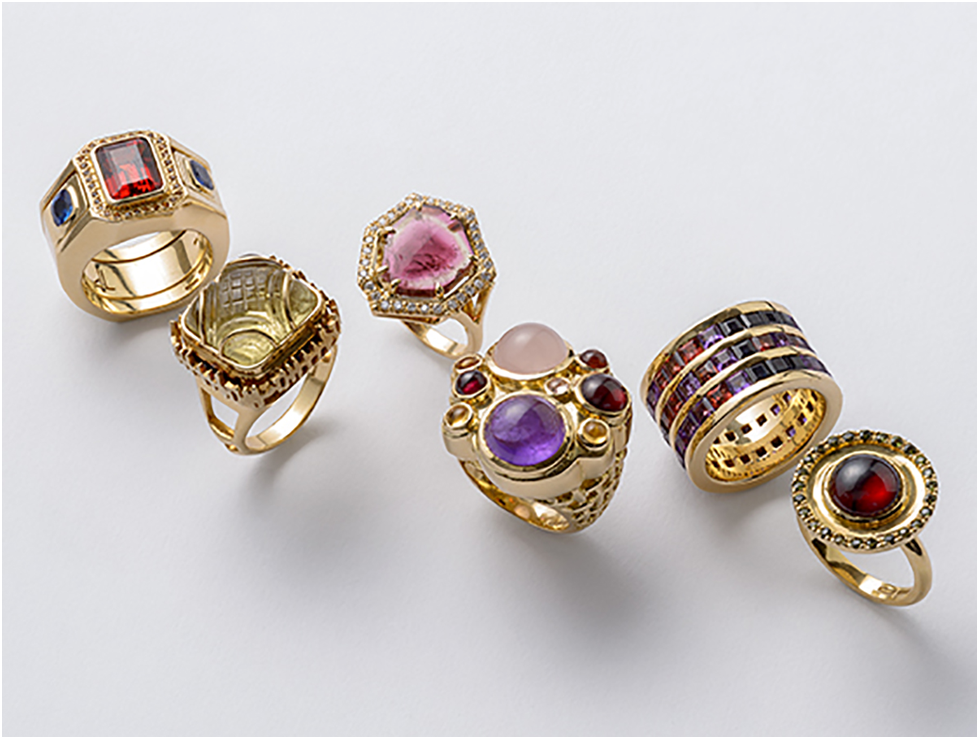 Indian Bridal Jewellery Trend -Feet
Anklets- Anklets are the most elegant and favourite jewels of Indian bride. You can wear Heavy anklets for your wedding day as per your choice, style and comfort. The judao designs for payals are most favourite for Indian bride the Barat Payal set in minakari and kundan is latest in trend.
Indian Bridal Jewellery Trend -Waist
You can go for beautiful kamarband or Waist belts matching with your outfit for your perfect bridal look. It is also ideal for holding heavy dupatta easily for the brides. In south brides wear heavy gold kamarband for their wedding of Gold. You can wear lightweight or heavy as per your choice.
If you like our Blog Subscribe us for more this kind of related Articles