Sanjay Dutt The Superstar of Industry and son of Late sanjay Dutt and Nargis who is known by various names Baba,Munnabhai and Raghu, Rocky and many other. He has been controversy child right from his first film. Sanjay dutt always be on the headlines of the newspaper with his alleged involvement in 1993 Blast and his rumored affair with Madhuri dixit
Read More : Follow the tips if you want to Glow in the upcoming Festive season
Interesting and shocking facts about Sanjay Dutt
1. Everyone knows that sanjay dutt is a drug addict but few people know that he started cigarette smoking at the age of 9. Sanjay dutt caught him doing smoking in bathroom he take him in a separate room and beat him up black and blue.
2. He was so drug addicted that once he travelled with 1 kg heroin hidden in his shoes. He was travelling with his sisters. He said that drugs spoil your senses you will forget about your family and friends
3. Sanjay dutt chose acting as a career as he thinks that acting is a very easy job and he did not want to study
4. When he was in prison he was getting Rs 25 Per day for making paper bags.
5. He joined drug rehabilitation center In Texas US when he went unconscious for two days.
Read More : Top 5 most expensive stocks in India
6. He won Film fare award twice in his career His first award as the best actor in a leading role in film Vasstav(2000) and his second win came from his performance Munna Bhai M.B.B.S(2004) as best performance in a comic role.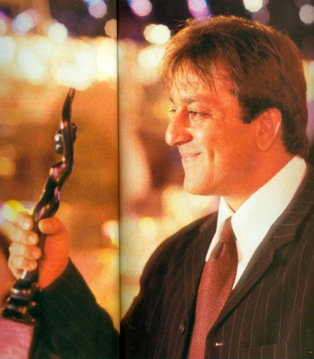 7. During the release of his first Debut film Rockey his mother Nargis cancer had reached at severe stage and her last wish was to see her son on Big screen. Unfortunately she died 5 days before the release of Rockey. When the premiere happened sanjay kept an empty seat in the theatre to feel the presence of her mother.
Read More : Applying Kajal in Baby Eyes is safe or unsafe; Explore
8. Sanjay dutt got married to actress Richa Sharma and had a daughter Trishala with her. After four months of daughter born richa started getting severe headaches. She was diagnosed with brain tumor she was admitted in the same hospital where sanjay mother nargis was treated in.
9. Munna Bhai MB.B.S was the first film in which sanjay and his father Sunil dutt was seen in the same frame. Even they were both featured in Rockey earlier they were never seen together on screen.
10. Along with making paper bag sanjay dutt also had duty of being an RJ For the radio station in the jail.
11. Sanjay dutt wanted to quit acting career when he was offered to run a farm business in the us However his father sanjay dutt convinced him to give a second chance to his acting career.
12 He was inspired by Arnold Schwarzenegger to build his body.
13. He got married to Rhea Pillai secretly in a temple and did not even given a clue to his father about it.